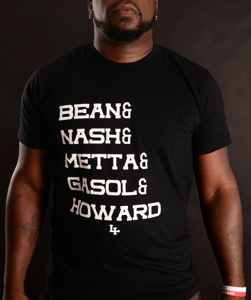 $

30.00
Are you prepared for what's sure to be one of the most exciting Laker season? Well, we are! With the acquisition of All-Stars Steve Nash and Dwight Howard, the Lakers are looking to take their spot back atop the league, and we're here to help you rep your team.
Pre-order your Starting 5 tee before the regular season begins on 10/30/12. *Shirts will be shipped out on the 25th of October.
Shirts are American Apparel, made of 100% cotton. Durable rib neckband.
International Shipping is NOT available for this product at the moment.